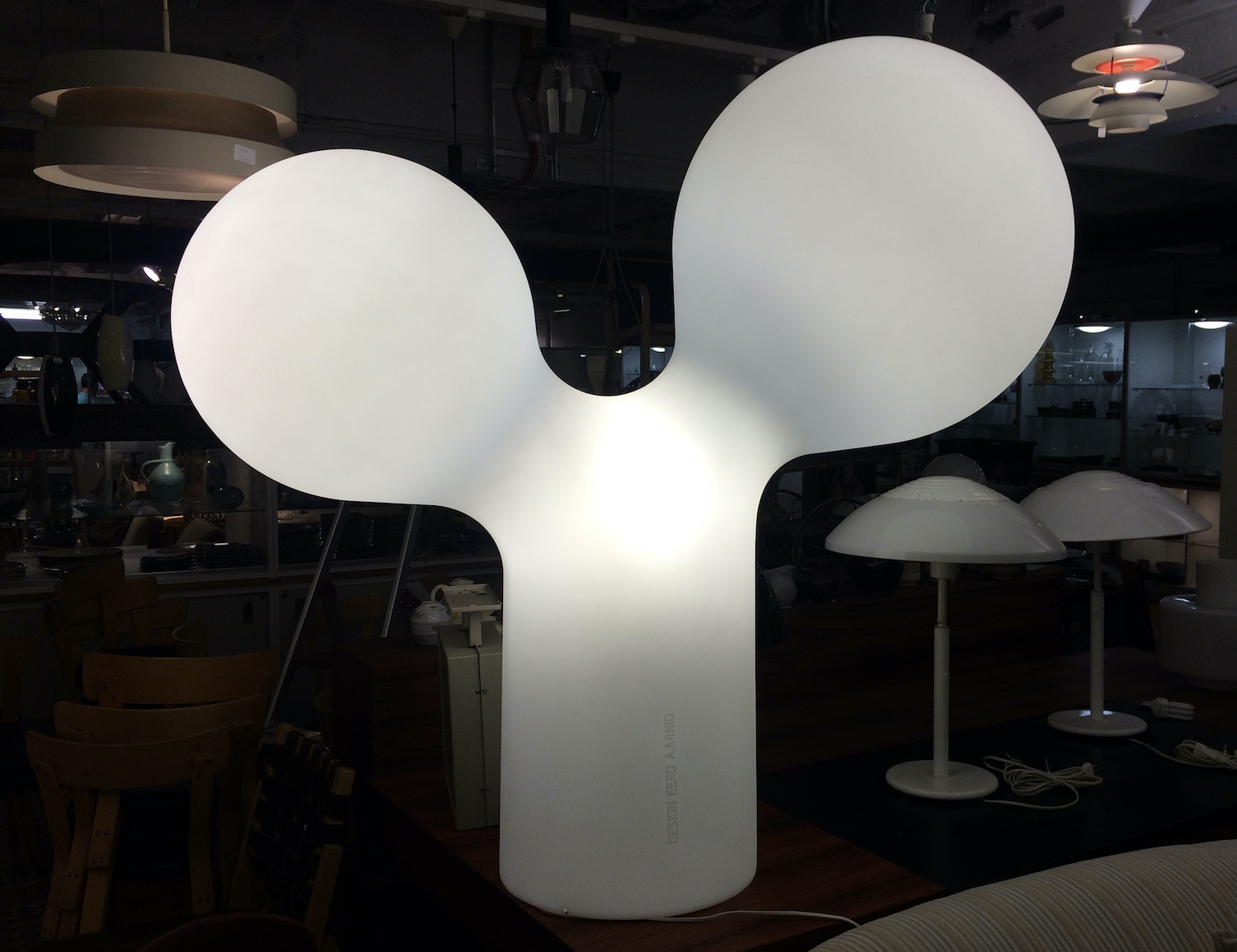 One of the most exciting developments in modern design came about at a time when the world was not only looking forward, but to the stars. From the 50s to the 70s, the space race took off between Russia and the US, and the world looked on, curious about the great unknown. Architects, designers and filmmakers were imagining how humankind might live in the future, and a new visual aesthetic started to influence buildings, interior design, film sets and everyday objects such as furniture, lighting and decor.
Modern materials were quickly put to work for the domestic front, hospitality the travel industry and many other applications. In this contemporary setting, the versatile properties of plastic meant it could be moulded into any shape, while its intrinsic strength allowed for free-standing single-piece items such as the 1960 S-shaped Panton chair by Swiss designer Verner Panton. Having first worked with Charles Eames, Finnish-American architect Eero Saarinen's glossy white 'Tulip' dining chairs and tables, balanced on slim central stems, instantly appeared to be from another age. Manufactured by furniture giant Knoll, these designs were certainly stylish and unique, but they were practical too.
Finnish designer Eero Aarnio's demonstrated what could be done with fibreglass, realising that a sphere was the strongest shape possible, as well as being naturally pleasing to the eye. His ball chair, produced in vibrant colours and finished with comfortable same-colour padding and cushions, created a pod-like personal space that could even be fitted with a phone for those private calls! This design soon started appearing in popular 1960s television shows such as THE PRISONER, where they instantly evoked a futuristic or dystopian environment.
As space age designers moved away from the straight lines of utilitarian mid-century wooden furniture, organic shapes bloomed. Arne Jacobsen's famous egg chair, originally designed for a hotel lobby and still so popular today, brought new curves and sweeps to the classic wing chair. French designer, Philip Paulin, collaborated with Dutch manufacturer Artifort to produce his own exquisite vision of a tulip chair. Here, the polished aluminium and chrome of the base meets a padded petal-shaped seat upholstered in colourful new-generation leatherette. Paulin's other organic shapes included the undulating 'tongue' recliner, 'mushroom' seats and sofas, and the 'oyster' chair and footstool. His 'orange slice' series also featured space age touches such as thin metal legs reminiscent of ariels or satellite arms.
From another French designer, Oliver Mourgue,, came the charmingly plump, low-seated Djinn chair – instantly covetable after featuring in Stanley Kubrick's 2001 A Space Odessey. Kubrick continued his love affair with the era's style in A Clockwork Orange, where an ultra-modern apartment is filled with space age furnishings.
Despite the emphasis on modern materials, the more traditional real and faux leathers, steel, and tubular chrome held their ground alongside the upstart new plastics and synthetic fabrics that became so popular in space age design. Commercially, lounge chairs, bar stools and reception seating brought the multiple sales that manufacturers love, and high-end car dealerships of the affluent 60s and 70s wowed customers with furnishings almost as special as the vehicles on display. Such items are much sought after today as statement pieces for the home.
Beds and bedroom furniture weren't forgotten in the space age revolution. Shaped wood and chrome competed with moulded plastics with futuristic lines, and designers again turned to the capsule or pod style that seemed to have become an accepted vision of future living.  Smaller home décor such as soft furnishings, fun coat hooks, clocks, and even tableware such as Woolworths now collectable Homemaker design, followed the huge demand for space age patterns.
And of course, lighting became the perfect partner in an era idolising satellites, rockets and space exploration. Light fittings the shape of alien spacecraft, planets and hovering suns lit this era of optimism. Sputniks were mimicked in pendant lights, small in the home, huge in hotels, stores and public buildings, their multiple arms reaching out to infinity.
Space age furniture and décor has remains a firm favourite for homemakers and collectors today, with many well-preserved investment pieces on the market for discerning buyers – or for those who want to recall the days of our first giant steps, as the new space age begins.