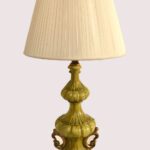 Vintage Italian Ceramic Lamp in Arts & Crafts Style
£200.00
Dimensions:
Lamp: 100 cm H with shade | Base: 28 cm D
Shade: 30cm H | 30 cm Top D | 50 cm Bottom D
Materials: Hand painted and glazed ceramic
Stylish large artisan Italian ceramic lamp on round wooden base in Arts & Crafts style. Green glaze with patinated gold paint.
£30 estimated UK mainland delivery – Delivery Price Guide
The charges for postage and packaging, or for manual delivery will be calculated at the time of order based on your delivery postcode.
UK Delivery:
Parcels normally arrive within 5 working days
1 Man London service normally available next day
2 Man London service normally within 5-7 workings days
1 & 2 Man UK service normally within 5-15 working days
If you want to save on delivery costs, this item is available for collection.
International Delivery:
Quote will be emailed within 3 working days of your order (or in advance upon request).
Returns:
We offer a 14-day return policy. Please note: we do not refund delivery charges and you will be responsible for the cost of returning the goods to us (equivalent to the original delivery charge). Read our conditions
Pure Awesomeness
Italian Arts and Crafts Style Lamp